Epoxy Flooring
An Epoxy Flooring system is a tough and colourful coating for commercial, industrial, retail, and residential floors. It is highly resistant to wear and tear, is water resistant and extremely impervious to dirt and oils.
Epoxy flooring can be applied over many different materials however, concrete is the best surface for epoxy floors. Before we install an epoxy floor, we have to make sure the concrete is in good condition and if it isn't, we will prepare it for you.
If you need extra slip resistance for your floor we can mix in fine glass or fine sand into the final coat. Most installations take 1 to 3 days and you can normally walk on the surface within 24-48 hours and drive on the surface within 3-5 days.
 Anti-Slip Epoxy Flooring
The anti-slip flooring is mainly designed for use in a number of industrial and commercial situations where a long lasting, durable, high performance, chemical and abrasive resistant flooring system is required.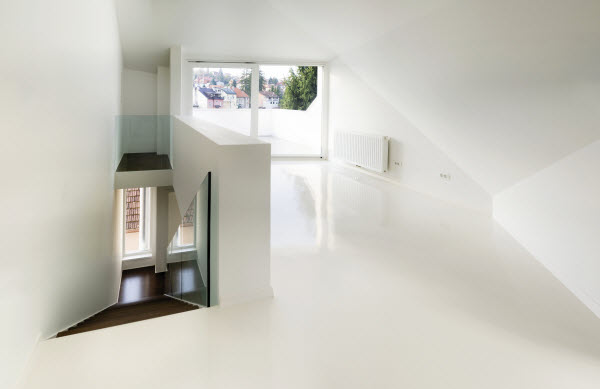 Seamless Flooring
The other type of epoxy flooring isn't really called epoxy, it is more of a flight floor and is called seamless flooring. It provides a smooth, multi-coloured floor with a plastic-like finish. We either create a smooth high gloss surface which is very popular in office décor and retail boutiques or we can scatter the floor with vinyl flakes to give more depth and perspective to your floor.
Many commercial floors can be slippery and sensitive, due to certain surface treatments, flooring materials and quite often than not employees would spill liquid on it. Not only is this endangering lives of the employees, but it is interfering with their productivity as well. Once again we can put in glass beads or sharp fine sand into the final coat to give you a non-slip surface.
Smooth Finish Epoxy Flooring
Epo Shield WB
Highly recommended for multi-story car park facilities, warehousing, light manufacturing, plant and bin rooms or anywhere durability and chemical resistance are required.
 Epo Shield WB340
General purpose water based epoxy floor coating ideal for use on pedestrian based internal concrete floors, and is ideal for general retail, light warehousing, bin rooms, corridors, service and mechanical rooms or any internal pedestrian trafficable area.
 Epo Shield 100
Ideal for use in factories, warehousing, laboratories, pharmaceutical factories, food and beverage processing plants, workshops, car parking facilities or anywhere a high gloss chemical and abrasive resistant floor is required.
 Epo Shield 110
Available in clear and in a range of AS2700 colours and is ideal for retail, showrooms, reception areas, sports halls, exhibition centre's or anywhere a high gloss decorative internal floor finish is required.
 Epo Shield SL
Designed for use in a number of Industrial, Commercial and Retail situations where a long lasting easy to clean, chemical and abrasive floor is required. Aggregate can be broadcast into Epo Shield SL100 to produce a slip resistant floor coating.
 Epo Flake Flooring System
Combination of a roll coat epoxy floor coating with small multi-coloured acrylic flakes broadcast across the surface to create an attractive hard-wearing and durable flooring system.
Both the seamless flooring and epoxy finish are resistant to common stains such as oil and grease and is ideal for garages, small offices, patios, bathrooms, rumpus rooms, and more. Also, they are not a porous material so there are many safety and hygiene benefits.